This recipe for chicken liver pate is special recipe because it is very simple for a pate and it is from my mother, Anne. Always the consummate hostess, she became an enthusiastic, wonderful cook later in life. I miss our long conversations about what she was cooking and her dinner party menus. When she traveled, mom would come back with descriptions of the most glorious foods for us to try and replicate.
When her children would come home to the Mountain, mom always made our favorite foods. This chicken liver pate was always waiting for my brother whenever he returned from his worldwide jaunts. Fat, salty, raw oysters flown in from the Chesapeake would be on the menu. The ones we didn't eat raw with tearfully hot horseradish, we'd fry in a light cornmeal batter and make po-boys, dressed, as they say in New Orleans with mayo, lettuce and tomatoes. Artichokes steamed with garlic, and herbs dipped in a vermouth sauce was also on the list – which reminds me of our family traveling through the Greek Peloponnesus in the Spring, ordering artichokes every single night.
Back to the pate. The deeply rich creamy spread, slathered on a baguette, would practically melt in your mouth.
My dear friend asked for an alternative to the pork fat. That would be duck fat, which you can find in the grocery store. Here is an Amazon link to a duck fat that does not have to be refrigerated until you use it.
I find it deeply satisfying that many of my memories center around food and the people I shared it with. Food, with its ability to delight all our senses, strengthens our memories by wrapping them in a warm, safe blanket that brings joy for many years.
Anne's Chicken Liver Pate
Ingredients:
4           pieces of salt pork, fried until crisp, to provide cooking fat (or use 2T duck fat)
1lb          chicken livers, with the fat removed
½ c         milk to marinate the liver
4T          unsalted butter
1c           yellow onions, chopped
2t            green peppercorns, ground (you can use black)
2t            thyme, chopped (or 1t dried)
1t            marjoram or oregano, chopped (1/2t dried), optional. I like to throw in ½ t of sage if I have it.
¼ c         brandy
Utensils:
Large frying pan, blender or immersion blender-stick, measuring spoons, measuring cup, a 2c mold (a small loaf pan would work) and a oven proof pan that is larger than your mold.
Method:
Heat the oven to 350F. Soak the livers in the milk for an hour. If you don't have the time, soak them while you chop and prepare the rest of the ingredients.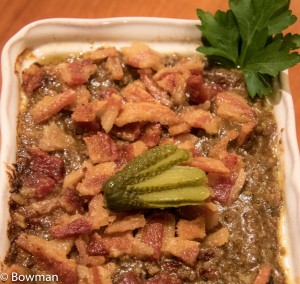 Use a teaspoon of butter and rub it all over the inside of your mold.
Cook the salt pork until crisp. Remove and crumble the pork and set aside. Pour off the fat, leaving 2T. Here is where you would just put the duck fat in the frying pan.
Rinse and dry the livers. Saute in the fat at a medium to medium-high temperature for 1 minute. Add the onion and cook 3 minutes. Add the garlic and cook for 30 seconds or until you just start to smell the garlic bouquet. Add the pepper, herbs and a pinch of salt. If you are using duck fat add two good pinches of salt.
Cooking the livers won't take long. Stop cooking them while their insides are still pink. Don't overcook them. They will cook further in the oven. Add the brandy and cook for 1 minute more. Add the rest of the butter and take off the heat to cool a little.
Puree the mixture in a blender, food processor or use your immersion blender. I like mine just a bit chunky.
Fill the mold with the liver mixture. Place the mold in the large ovenproof pan. Pour very hot water in the large pan until it comes half way up the side of the mold. This is called a bain marie.
Bake in the oven for 30 minutes or until the internal temperature is 155F.
Serve with a baguette slice thin and toasted with cornichons, and a dab of cheese and coarse mustard. Make a rare roast beef sandwich with the pate and brie and grill