A loaf of my husband's bread from the freezer. We take the loaf out of the freezer the night before we need it and leave it on the counter to defrost. It tastes just baked in the morning. Or pop it into a 350F oven for 10 minutes and you have warm bread. TIP: If you have a good loaf of bread and you can't eat it all, cut it in half – freeze part to have later.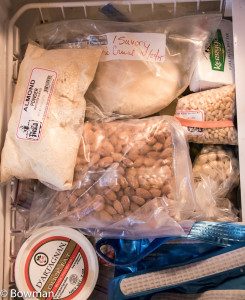 What do you really need in your freezer? I am the queen of stuffing little leftovers in the freezer and having such a cluttered mess that I can't find anything.
Having a small amount of freezer room means you need to use that space wisely. What would make your life easier? 4T of leftover frozen peas slightly freezer burned isn't going to be very useful.
What will you use within the next two months? Most items (fish, meats, soups) don't last a long time even in the freezer. What you consider essential is going to differ based on what you like to cook. I've tried to unclutter my freezer so nothing attacks me when I open the door and what I pull out is edible.
There are a few basic things I like to always have in my freezer:
• At least one sweet and one savory pie crust
• A box of good puff pastry (the kind made with real butter)
• A frozen soup or two (perfect for those nights you don't feel like cooking)
• Homemade chicken broth (sometimes I have fish or lobster)
• Butter (Kerrygold – my husband is Irish)
• Nuts
• A whole chicken
• Frozen peas and blueberries
• Chevre starter (to make goat cheese and powered rennet to make mozzarella) freeze it to last longer
• Rinds from parmigiano reggiano to make soups and stews more flavorful
• A zip lock with chicken necks, tops of carrots, celery and onion…to make a stock
• Lemoncello
• My husband's wonderful bread (he makes it on the weekend and we freeze several loafs or baguettes for the week)
• Ice packs (Yeah, I'm getting older)
You can make a great meal quickly with these ingredients on hand. They also don't take up a lot of room if you have a small freezer.