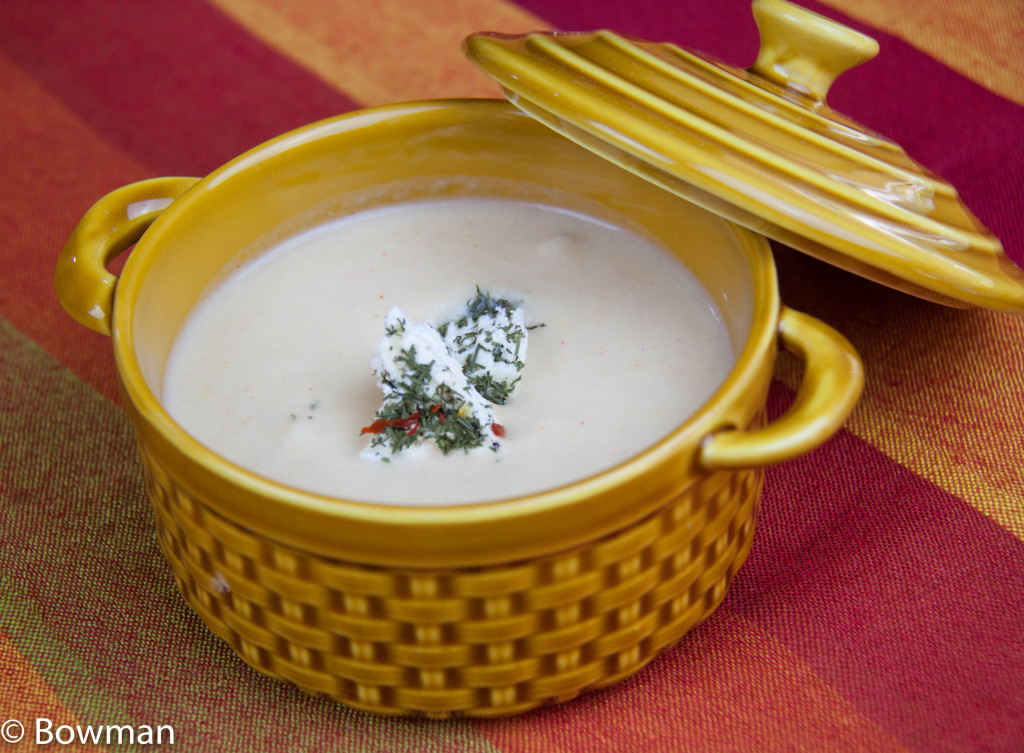 Turnip Soup to Warm the Soul
Turnips used not be the first vegetable I would think of for a creamy, silken soup but this soup is just that: creamy and soul-satisfying. All that and there is no cream to inflate the calorie count. It has become a favorite of mine.
This soup would be a wonderful first course at Thanksgiving. It makes sense in a small kitchen because you can make it ahead of time and warm it up in the microwave. Serve it in small espresso or coffee cups. It will set the stage as a warm small enticement leading to the main course.
I first made this at my mother's house in the Tennessee mountains one winter. It is adapted from a recipe by Edna Lewis and Scott Peacock.
I like to garnish this Turnip Soup with small pieces of herbed goat cheese and a small drizzle of white balsamic vinegar or a special extra virgin olive oil to add the final touch.
Turnip Soup with Goat Cheese
4 servings
Ingredients:
2 turnips, peeled and thinly sliced
1 sweet onion, chopped
1T butter
1T extra-virgin olive oil
1 Yukon gold potato, peeled and sliced like the turnip
1t fresh sage chopped finely
3c chicken stock
1½t salt
¼ t freshly ground nutmeg
2oz herbed goat cheese (optional)
white balsamic vinegar (optional)
Utensils:
1 medium to large sauce pan, blender
Method:
Melt the butter and olive oil in your pot. Sauté the onions till just
transparent. Don't let them brown. Add the sage, turnips, potato
and salt. Cook gently for 15 minutes or until the vegetables are
fork tender. Add the stock and nutmeg. Cook at a simmer for
another 10 minutes. Use a immersion blender to puree. Taste.
To Serve

:

Cut the goat cheese into pieces. Arrange on top of the soup and

add a few drops of white balsamic vinegar or extra virgin olive oil.

To eat, swirl the cheese into the soup. Enjoy!