Dubbed "the poor man's lobster", monkfish, is a mild tasting, dense, lean, slightly sweet, beautifully white fish commonly found in French cuisine and becoming more popular in America. Unfortunately, the price per pound makes it almost as expensive as lobster. For a small kitchen this is a perfectly beautiful dish that is simple and needs few utensils.
Monkfish have a huge head and mouth. The only edible part is the tail, which is long. Usually you get a long, round filet with no bones. This makes it perfect for cutting into medallions or chunks for soups and stew. Because it is lean, you have to be careful not to overcook it. The cracked white peppercorns in the recipe add a spicy zing. The finished dish is as delicious as it is beautiful.
I usually saute monkfish medallions in brown butter, which is clarified butter that is cooked until it is slightly brown – it acquires a nice nutty flavor. Start by adding salt and pepper with a squeeze of lemon.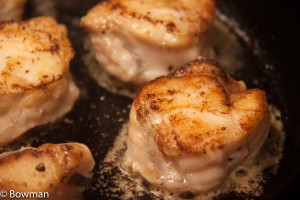 For something a little more elegant, my friend Audrey showed me how she made Monkfish in a Beurre Rouge sauce for the Garden Restaurant in Philadelphia. You may be more familiar with a beurre blanc sauce, which is a classic French sauce made from butter, white wine, shallots and a touch of vinegar. A beurre rouge is made with red wine, which gives the sauce a slight tang and a beautiful rich ruby port color.
Cooking with friends is like Christmas morning: full of surprises, laughter and joy. Thank you Audrey!
Monkfish in a Beurre Rouge
Serves 4
Ingredients:
1lb          monkfish filet, trimmed
½ c         clarified butter (you can use a high-heat oil like rapeseed, olive oil, or avocado oil)
10           white peppercorns, cracked with the flat side of a knife, or a hammer
pinch of salt
Beurre Rouge
¼ c         shallots, chopped
1             sprig of tarragon (optional)
1c           dry red wine like a Zinfandel
¼ c        fish or chicken stock
8T          plain butter, cut into 8 pieces
Utensils:
Hammer, plastic bag to crack the peppercorns in, measuring cup, tongs, large sauté pan
Method:
Monkfish is unusual in that it has a thin shiny fibrous skin over parts of the meat. Remove this filament. Cut the fish into medallions 1½ to 2" thick. Make sure the monkfish is dry. Lightly season with salt and the peppercorns. Heat your pan to medium high. Pour in 3 to 4 T of oil.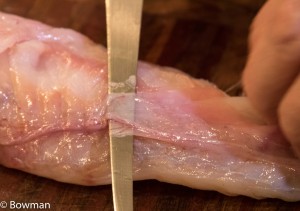 Look at the picture I have included. See how the fish medallions are turning translucent? This is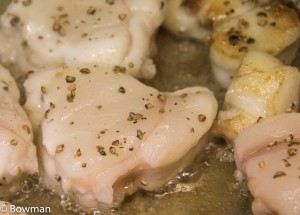 when you should start to think about turning them to brown evenly on the other side.
Remove the medallions to a warm plate.
Saute the shallots in the pan until they soften. Pour in the red wine and scrape the lovely bits off the bottom of the pan. Add the tarragon. Reduce the red wine by half, stirring occasionally. Add the stock. Now for the important part: swirl the pan vigorously and add the butter one or two pieces at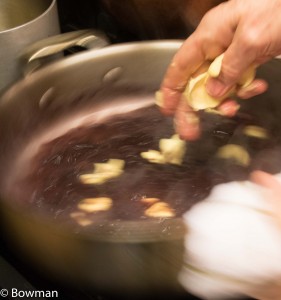 a time while continuously swirling the pan. You want to incorporate the butter without it separating. Pour the beurre rouge through a fine sieve or cheesecloth to capture all the solid parts.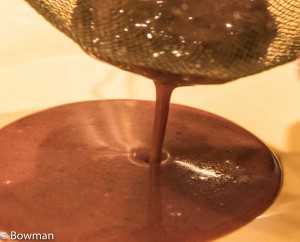 Warm your dinner plates for a minute in the microwave. Pour some of the beurre rouge onto each plate. Place the monkfish in the middle. Now you have an elegant, beautifully presented dinner that is quick to make and delightful to eat.