Gravlax with Tequila
Gravlax is salmon that has been cured with, in this case, salt, tequila and herbs. It is easily prepared and stunning to serve. It's one of my favorite dishes to take to a party or as a hostess gift – it always gets oohhhs and aahhhs.  Its beautiful color and delicate taste makes it a perfect hors d'oeuvre or first course. With a bagel and cream cheese, I like it for breakfast too.  This version came from my dear friend Audrey who was head chef at the Garden Restaurant in Philadelphia. We have such fun cooking together.  I always learn a lot!
Most of the time I serve gravlax thinly sliced in generous bite size pieces, along with small forks or a toothpick. Or I put the gravlax on a thin slice of pumpernickel or rye bread with a touch of butter, Neufchatel or Dijon mustard and a sprig from one of the herbs used in the marinade.
Preparation could not be simpler. The tequila and cilantro give the gravlax a southwest flare.
Note: The salmon has to cure in the refrigerator for 24 to 36 hours before serving.
Ingredients
2 to 3 lb of salmon cut into two equal, flat pieces.  Make sure it is scaled and deboned. You'll make a sandwich with two salmon pieces acting as the bread and the herb mixture as the filling.
The cure:
1 c     kosher salt
1 c     dark brown sugar
4 T     grated lemon rinds (you will need 3-4 lemons)
1 T     minced shallot or 3 T fresh chives
3/4     bunch of cilantro, chopped
¼       bunch of dill, chopped
¾       bunch of flat-leaf Italian parsley, chopped
a few grinds of pepper
2 T     tequila
Method
Mix sugar and salt.  Wash, thoroughly dry and chop the herbs and place in a bowl with the other dry ingredients. That's it – the dry rub/cure is ready.
Rub your fingertips over the salmon to make sure it is completely deboned.  Often I find the small pin bones have not been removed.  A pair of needle-nosed pliers will remove them easily.  I leave the skin on.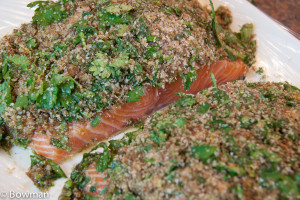 Rub the salmon with the tequila. Pack the herb mixture onto the non-skin side of both pieces of salmon, then slap the two salmon pieces together with the skin on the outside to make a salmon sandwich with the herbs as the filling.  Wrap with cling wrap very tightly.   Put on a tray under a heavy weight, such as a foil-wrapped brick. I use a black iron skillet with a concrete statue from my garden on top.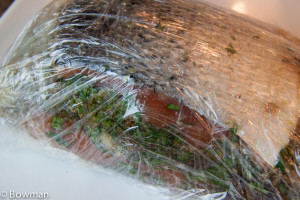 Place the weighted salmon on a tray in the refrigerator for 36 hours, turning the gravlax every 12 hours.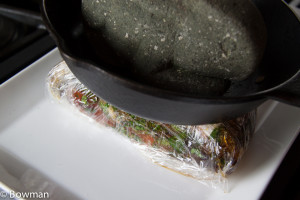 After 36 hours unwrap the salmon, rinse off the cure and pat dry. Cut the gravlax like smoked salmon – cut into thin slices, on an angle. The gravlax needs to be refrigerated. Eat within a few days.