The temperature is hovering at 100F here.  I don't even want to think about turning on the stove. When it's too hot to cook, chilled soup with a sparkling glass of wine makes a lovely, refreshing meal. This soup is so elegant in its simplicity and flavor that it begs for a crisp white tablecloth and a baguette with cold salted butter. Add a few pieces of grilled shrimp, chicken or scallops and you have a special meal with no fuss.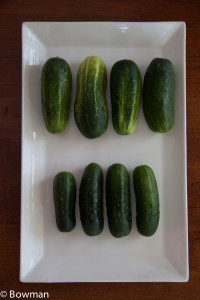 All you do is throw everything in the blender and in less than a minute it's done. I like a bit of texture in my soups. With this cool avocado and cucumber soup, I don't puree it to complete smoothness which you might want to do. And remember: with chilled food you usually need a bit more salt than you might think. Enjoy!
Cool Avocado and Cucumber Soup
Ingredients
2 medium cucumbers, peeled and chopped.
1 avocado
1/2 cup plain Greek yogurt
1 jalapeño pepper, seeded and roughly chopped. Sometimes I roast the jalapeño which gives the soup a slightly richer flavor.
1 1/4 cups ice-cold water
1 clove garlic, roughly chopped
1 small shallot chopped
3 tablespoons chopped cilantro, mint or dill
2 tablespoons lime juice
1 1/2 tablespoons sugar
1 1/2 teaspoons salt
1/4 teaspoon pepper
Utensils
Blender or food processor, measuring spoons
Method
Now the easy part:
Place everything in a blender or food processor and process until smooth. Add more cold water if you need to thin the soup to your desired consistency. Season again with salt and pepper if needed. Because it is served cold, this soup might need a bit more salt than you are used to using. Chill in the refrigerator for about 1 hour before serving.  I have been known to put the cool avocado and cucumber soup in a bowl in the freezer for 20 to 30 minutes stirring occasionally to serve it sooner. Taste before serving to make sure the seasonings are balanced.
Garnish with sprig of mint or couple of cilantro leaves.
Make Cool Avocado and Cucumber Soup a meal by adding chopped tomatoes, a couple of grilled shrimp or scallops or even a few pieces of roasted chicken. Make an arrangement of the tomatoes, cilantro and grilled shrimp/scallop/chicken in the middle of the soup.
Editors note: I've made this several times lately and occasionally I needed to add a bit more sugar if it is too tart. Enjoy!