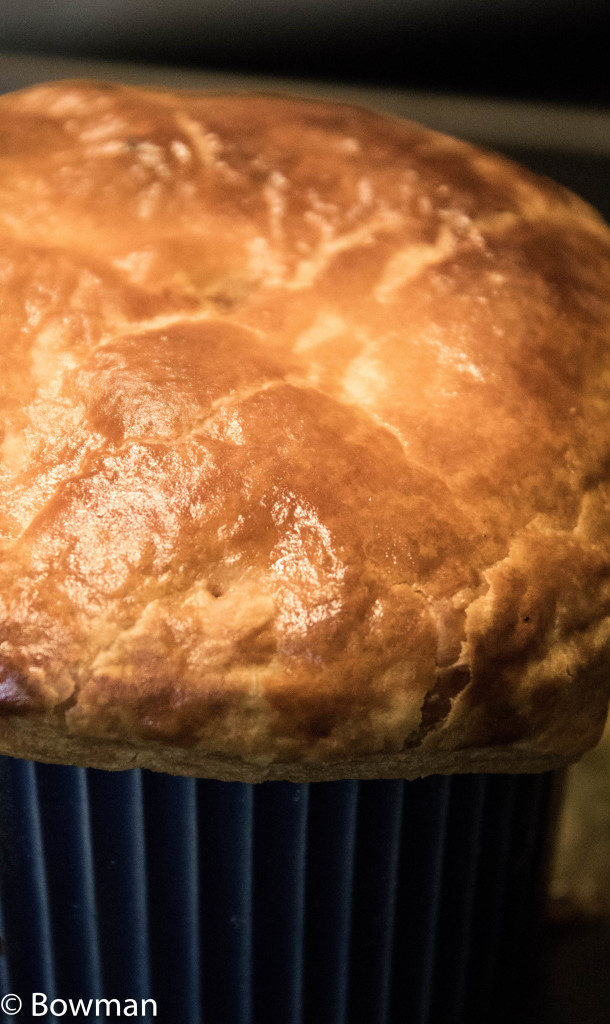 I hope you've held on to some leftover gravy and some turkey. I found myself planning Thanksgiving dinner with an inordinate interest in what I would cook afterwards with the leftovers.
Pot pies are one of my favorite winter comfort foods. Turkey pot pie is a natural way to use those Thanksgiving leftovers. Add a bit of leftover gravy to your base and it is sublime.
I've been making what I think of as a "low calorie" béchamel sauce for several years. It is a great way to shave off a few calories which I add back by using puff pastry as a quick pastry crust. Every little helps.
This looks like a lot of moving parts – it isn't. Try it once and you'll have a great recipe to use with all sorts of fillings. Get all the ingredients out and proceed in this order:
Put the puff pastry out on the counter to defrost and turn on your oven (375F)
Get your ingredients out, chopped and measured
Get the béchamel sauce started
Start sautéing the vegetables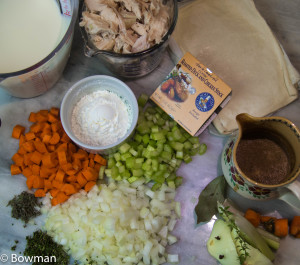 Instead of a traditional béchamel sauce (a basic white sauce) which is made by whisking hot milk into a butter/flour mixture – a roux – this version uses cornstarch to thicken flavor-infused low fat milk.
Low calorie Béchamel Sauce
makes 3 cups
Ingredients:
3 T    cornstarch
3c     2% milk
onion tops from the pie filling
carrot tops and tips from the pie filling
2       cloves
2       sprigs thyme (optional)
1       bay leaf
4       peppercorns, whole
½ to 1c leftover turkey gravy (or 2t of More Than Gourmet's Roasted Duck and Chicken Stock)
salt and pepper
Utensils:
Whisk, medium sauce pan, slotted spoon
Method:
Stick the cloves into your onion tops. Place the milk, carrot, onion, thyme, peppercorns and bay leaf in a saucepan and bring slowly to a boil. Lower the heat and simmer for 10 minutes to extract the flavors.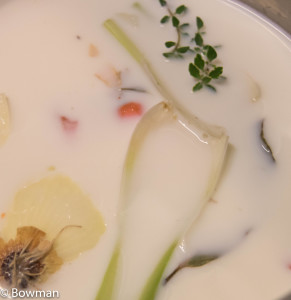 Use a slotted spoon to scoop out the vegetable pieces. Whisk the cornstarch and another ¼ c milk together to get the lumps out. Add to the milk mixture. Raise the heat to medium. Whisk in your turkey gravy. If you do not have turkey gravy, add to the milk either a chicken bouillon cube or 2t of the concentrated duck and chicken stock. Whisk constantly for about 5 minutes or until the sauce coats the back of a spoon. Check the seasoning. It should have lots of flavor.
Note: I use the More than Gourmet Stocks and Demi Glaze.  They add a rich full flavor to soups and sauces particularly when you don't have time to make nor storage room for stocks.  I always take them on sailing trips.
Tip: Without the turkey gravy this is a great gluten-free way to make a low calorie béchamel sauce.
Turkey Pot Pie
Makes 4 pot pies, enough for 4 people
 Ingredients:
1        package of puff pastry, thawed
2c     onions, chopped (about 2 medium onions)
1T     olive oil
1½ c carrots, peeled and diced
1c     celery stalks, diced the same size as your carrots
1T     thyme, chopped (use 1/2T if you are using dried thyme)
1t      sage, chopped
1c     frozen peas (½ of a 10 oz package)
2½c  cooked turkey meat, shredded
1t     kosher salt (taste, because you may need a bit more)
3-4    grinds of pepper
2       sheets of puff pastry (a whole box, usually)
1       egg, beaten with a few drops of warm water
3c     bechamel sauce (see above)
Utensils:
Measuring cups, measuring spoons, large sauce pan, pastry brush, 4 1c oven proof bowls, a cookie sheet
Set your oven to 375F
 In a the large sauce pan, sauté the onions in the olive oil over medium heat just until translucent – about 5 minutes. Add the celery and carrots and continue to cook until the additions are just soft. Add the salt and pepper. Add the turkey.
Pour in the béchamel sauce and add the peas. Taste for flavor.  Stir to combine.
Pour the turkey mixture into 4 ovenproof bowls of about 1 cup capacity each. Brush the rim of the bowls with the eggwash. Cover each with a square of puff pastry, overlapping the sides. Cut a slit in the middle of the pastry to allow steam to escape. Brush the puff pastry with the egg wash. Place the soup bowls on the cookie sheet and place in the oven.
Bake for 30 to 35 minutes or until the puff pastry is golden brown.