It has been raining for five days straight. It's cold and wet. One reason to live where it can get to 104F in the summer is that it is rarely overcast for more than a day or two at a time. After five days of this I realize I'd never manage in Seattle or Ireland.
Time for comfort food. The problem with most of my favorite comfort foods is the long cooking time and the loads of calories. Enter Eggplant Parmigiana with a Craig Claiborne trick – it is warm, with a rich tomato sauce and just the right amount of parmigiano-reggiano cheese to make it lush and satisfying. It is much lighter, calorie-wise, than the old fashioned recipe and you'll have Eggplant Parmigiana ready to eat in less than 45 minutes.
Eggplant Parmigiana – quick with fewer calories
Serves 4
Ingredients:
2       medium globe eggplants – look for a shiny skin
1T     kosher salt
1       14oz can of tomato sauce – I use Glen Muir
1T     olive oil
2       garlic cloves, smashed, to rub on the eggplant
2       garlic cloves, chopped
½      onion, chopped
1/4c basil, fresh, chopped (1½ T dried)
1T     oregano, fresh, chopped (1½ t dried) or substitute parsley
½ to 1c freshly grated parmigiano-reggiano cheese
¼ to ½ lb. fresh mozzarella, thinly sliced (optional)
salt and pepper
Utensils:
Colander, a medium saucepan, a broiling pan or cookie sheet, a medium baking pan
Method:
Turn your oven to broil.
Slice the eggplant crosswise into ½ inch-thick round pieces. Salt liberally and place in a colander to drain for 20 minutes. The salt acts to pull the moisture and bitter flavor out of the eggplant.
Meanwhile, in a medium saucepan, sauté the onion in olive oil until translucent, then add the chopped garlic and stir for a minute. Don't let the garlic burn. Add the tomato sauce, basil, oregano, salt and pepper. Give it a few extra grinds of pepper and don't skimp on the salt. Tomatoes love salt. Allow to gently simmer while you prepare the eggplant. Don't let it boil. Be sure to taste the sauce and adjust the seasonings. If the tomato sauce is bitter, add 1t sugar to help balance the flavors. This is an old Southern remedy for bitter tomatoes.
Rinse the eggplant and pat the pieces dry. Rub the smashed garlic clove over both sides of each eggplant slice. Lightly salt and pepper the slices. Place on a broiling pan and place in the upper third of your oven under the broiler. Watch closely. Allow to lightly brown on both sides.
In your baking pan spread several tablespoons of the tomato sauce over the bottom of the pan. Next add a layer of eggplant slices then add tomato sauce to cover.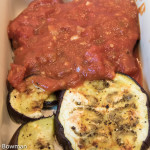 Add a final layer of eggplant, then tomato sauce to cover. On top, sprinkle parmigiano-reggiano and dot with mozzarella till it looks right to you.
Bake at 350F for 15 to 20 minutes until the cheese is melted, hot and bubbly. Serve and enjoy.