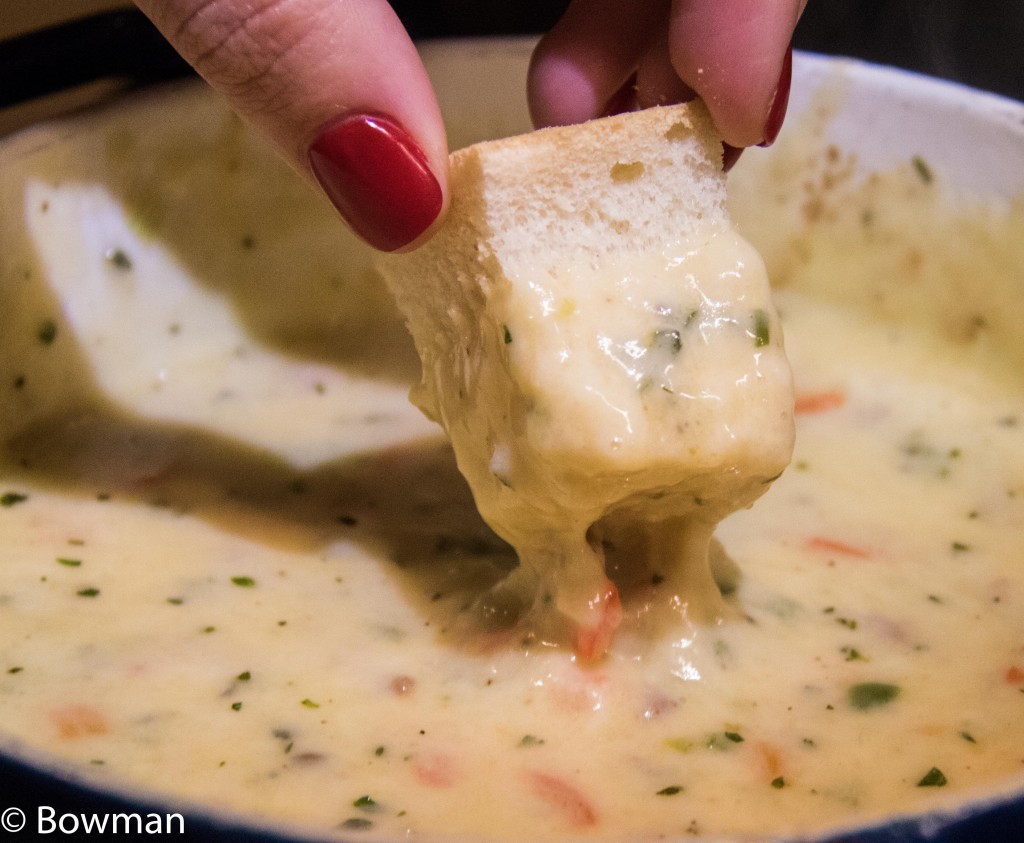 Gouda, Sofrito and Habanero Fondue
Do you need a great appetizer, party dip, or something fun for dinner on these cold winter nights? I have just the ticket: Gouda, Sofrito and Habanero Fondue.
Our family tradition on Christmas eve is to sit in front of a roaring wood fire and fix a variety of fondues for dinner. One item on the menu never changes: we take a 8" piece of aged filet that we rub all over with lots of salt and throw on the hot embers below the fire. This year we threw a lobster tail with butter and lemon in the coals too. Both were fantastic. I'll tell you how to do this in another blog.
Over the years we've tried a variety of ingredients for the fondues. One of our favorites is Gouda with Sofrito and Habanero Fondue.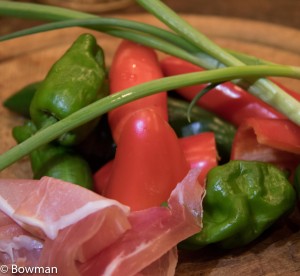 A sofrito is typically a mixture of onions, peppers, ham and garlic. With slight variations, it is the basis of many traditional Spanish, Caribbean and Latin American cooking. The sofrito gives these cuisines a depth of flavor. The bold flavors of the sofrito and hot peppers contrast beautifully with the smooth Gouda.
We make the fondues on the stove in heavy-bottom pots and bring it directly to the table. We don't use special fondue pots for the cheese fondue. Early in the morning I go to the Village Baking Company, a wonderful boulangerie in Dallas, and pick out rye, multigrain and sourdough loaves. With the filet, lobster, and breads cut into bite-sized pieces, speared on a skewer and dipped in the fondues, the result is a rich, soul satisfying combination of creamy melted cheese, rich beef, briny lobster and the hit of just the right amount of heat. If you want this to be gluten free and/or want to add vegetables, try dipping bell peppers, mushrooms, and cherry tomatoes in this creamy, spicy fondue!
Gouda, Sofrito and Habanero Fondue
Serves 4 to 6 for dinner, more as an appetizer
Ingredients:
2T          olive oil
½ lb        Gouda cheese, grated
½ lb        Monterey Jack cheese with habanero, grated
1T          cornstarch
4 oz        prosciutto or smoked ham, finely chopped
2             scallions, finely chopped. Use both white and green parts.
1             red bell pepper, finely chopped
1             jalapeno, minced. Use less for less spicy heat
1             garlic clove, minced
1t            fresh oregano, minced or ½ t dried
1t            fresh thyme, minced or ½ t dried
¾ c         lager beer, you can use gluten free beer or ale
1T          cider vinegar
Utensils:
 Medium bowl, grater, heavy bottom medium saucepan or an enameled pot, wooden spoon, measuring cup and spoons.
Method: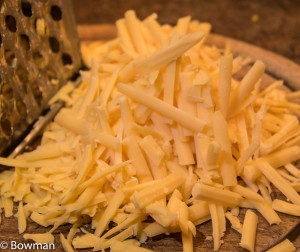 Toss cheese and cornstarch together in the medium bowl.
Sauté the prosciutto, scallions, red bell pepper, habanero, garlic, oregano and thyme in the saucepan until the onion is golden. Keep an eye on the garlic so it does not burn.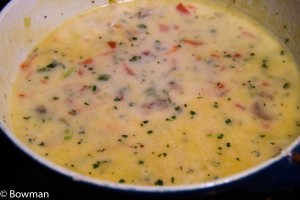 Add the beer and vinegar. Bring the liquid to a simmer then add the cheese a handful at a time, letting each handful melt before adding another.
I use a medium-sized enamel pot and I just leave the fondue in it to serve. If you have a ceramic fondue pot with a candle, use it!
Note: You can use all Gouda cheese and substitute 2t of finely chopped habanero for the jalapeno.
 I serve it with different breads like rye, sourdough, and multigrain. When cutting the bread into bite-sized pieces, try to have every piece have a bit of crust so it is not too soft to dip.
 Be careful when you chop any hot chili. The oil in the chili will stay on your hands even after washing so don't rub your eyes.